One of the hottest topics in India these days is the YouTube vs TikTok fight. With #banTikTok trending on social media platforms and mass reporting of the popular social media app TikTok, the battle between both platforms is roaring day by day.
TikTok rating has dropped to an all-time low of 1.3 stars on Google Play (at the time of writing).
So, how did this controversy begin? Why is TikTok losing the battle despite being a popular platform in India?
How YouTube Vs TikTok Started ?
TikTok users in India started growing, people began comparing it with YouTube. The debate slowly turned into 'YouTube creators vs. TikTok creators' digital fight when some popular creators of both platforms started roasting each other's platforms.
Controversy took a big twist when the famous YouTuber Ajey Nager AKA CarryMinati, released a video titled "TikTok vs YouTube | The End," where he roasted (metaphorically) a popular TikTok 'star' named Amir Siddiqui.
In the video, CarryMinati used homophobic slangs and derogatory speech against Amir Siddiqui and TikTok creators in general. In his roast video, he also stated that creating content on YouTube requires talent, while TikTok videos are mere enactment.
The video garnered record-breaking likes and views and also became the fastest video to get one million likes.
While it was on its way to winning the title of the most liked non-music video on the platform, YouTube silently took it down.
Many believe cyberbullying and harassment are the reasons why YouTube deleted the video. Soon after the video was taken down, several Carryminati fans took to social media websites with #Justiceforcarryminati.
TikTok's rating plummet drastically
Angry fans also started trending #BanTikTok on Twitter and Instagram, which led to mass reporting of the TikTok app on Google Play Store.
#justiceforcarryminati @YouTubeIndia bring back @CarryMinati video.
There are lots of contents on YouTube need to be removed by YouTube but inside that you remove that video in which there is nothing which is violating or support the territory
We are with @CarryMinati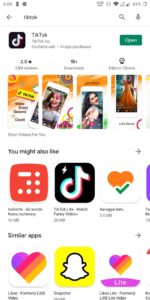 Two weeks ago, TikTok had a rating of 4.6 stars on Google Play Store, which has now dropped drastically to just 1.3 stars, thanks to mass reporting and negative reviews of the app.