Tencent has finally started pushing out the PUBG Mobile V0.18.0 Update for PUBG Mobile. As expected, the major update introduces a whole host of new features to the game as well as a number of bug fixes and improvements.
The company notes that the update will take up about 1.97GB of storage space on Android and 2.21GB on iOS.
---
---
Tencent notes that while the servers will not be taken offline for the update, players on different versions of PUBG Mobile will not be able to invite one another.
PUBG Mobile V0.18.0 Update List!!
PUBG Update Mad Miramar
The biggest part of the update is the new version of Miramar, called Mad Miramar. As per the patch notes, there have been some visual updates as well as some new elements. An Oasis has been added to the northern part of the map, also some Urban Ruins. The developers also added more housing areas, roads and resources.
There is also the addition of a race track that runs through the whole map. This should make driving on the map more fun. Speaking of driving, the game will now feature a Golden Mirado.

Vending machines have also been added to the game. These machines will dispense Energy Drinks and Painkillers and those who are lucky might get as many as eight drinks at a time.
The update also brings a number of visual updates, both in the map and in the main menu. There is now a chance for the Miramar map and, the main lobby will now feature a Miramar theme and music.
Update BlueHole Mode (Coming Soon)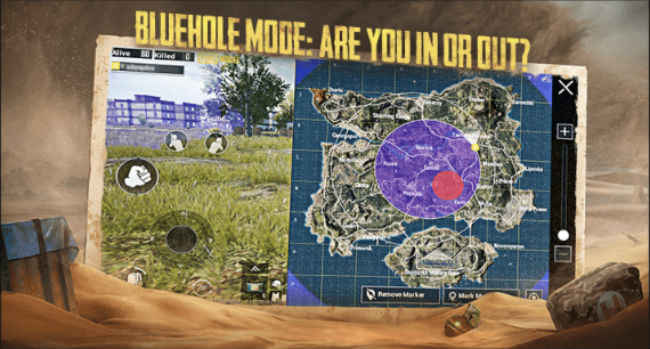 This new game mode will be a new addition to the EvoGround Arcade and will be available at a later date. This game mode will be set in Erangel and is pretty similar to the classic mode.
However, instead of only one circle, there will be two circles. The outer circle will represent the safe zone, while the inner circle will harm the health of whoever is inside it.
PUBG Mobile Update Jungle Adventure (coming soon)
Miramar and Erangel aren't the only maps getting some love. Sanhok will soon play host to a new mode called Jungle Adventure. When playing a match in Sanhok, there will be a random chance to entre the new Jungle Adventure mode. In this mode, players can find and use ancient totems to receive items or a 'blessing'. It is not yet known what these blessings will do. Similarly, the jungle will also contain food items that may grant "mysterious effects." Finally, there is a hot air balloon that plays can use to scout the battlefield.
PUBG Mobile Update New Weapon's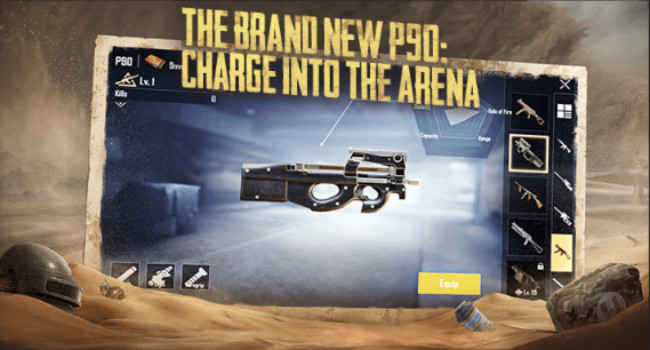 The P90 submachine gun (SMG) has been added to the Arena. This weapon fires 9mm bullets and offers a default magazine capacity of 50 rounds. It has three firing modes, single, burst and full-auto.
There is also a new variant of the Win94 rifle. This new version of the weapons will come with a 2.7x scope attached as default, similar to the VSS.
PUBG Mobile Update Canted Sight
Canted Sight attachment that will now spawn in games and it will be compatible with most assault rifles, sub-machine guns, sniper rifles, light machine guns, and even some shotguns. The new sight slots on the side of weapons and can be used alongside other scopes.
PUBG Mobile Update New Results Screen UI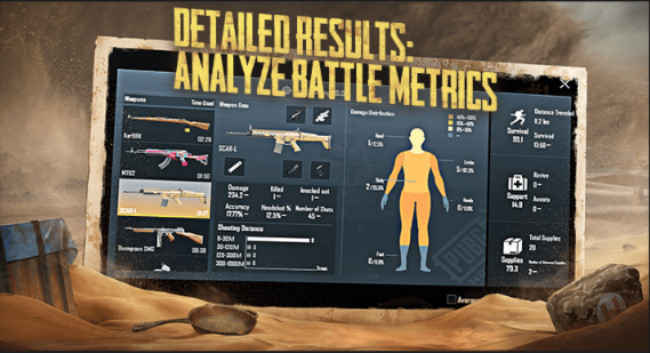 Results Screen UI has been updated and now features 'detailed results'. It will now allow players to view data on each weapon they used in the game. They will also be able to check and compare statistics with others in the same tier.
PUBG Mobile Update Cheer Park
The Cheer Park can accommodate up to 20 players at a time and has most of the same features as the Training Ground.
Players can use this downtime to view information about other plays as well as chat and interact with them. Players can also invite their friends and roast chicken in cheer park.
PUBG Mobile Update Royale Pass Season 13
The new season 13 of Royale Pass will kick off from May 13 and will have the Toy Playground theme. The new pass brings with it Cartoon Ranger outfits for players.
At rank 50, players can choose either Ice Ranger or Fire Ranger and at Rank 100, they get the Ultra Defender Set. There is also the Puppet Agent outfit that has three forms that players can mix and match.
PUBG Mobile V0.18.0 Update Other Stuff
There have also been a whole host of other changes and fixes that are aimed at improving the gameplay experience for PUBG Mobile players.
This includes improvements to Death Replays, weapon balancing, Guncraft Finishes and more.
You can check out the entire patch notes over on Reddit to know more about PUBG Mobile V0.18.0 Update.